I can't believe how long it's been since I wrote about anything I've read. How has it been 5 months? I have definitely been doing plenty of reading; I've just gotten too distracted to write them up. This is, therefore, an unintentional roundup of some of the most memorable books I've read so far this year. Feel free to pop over to my Goodreads page to see a full list of what I've been reading.
Lincoln in the Bardo by George Saunders
I am terrible about keeping up to date with fiction, but as I have an interest in anything to do with Lincoln, and have heard great things about Saunders, I wanted to try this one. It takes place over one night, and to me it read more like a play than a novel. Saunders skillfully transitions between conflicting voices; each of the characters were distinctive, well-rounded, and introduced/developed at a good pace. Having a novel that is set in only 2 places is also a challenge that Saunders handled really well. It's hard to believe many authors could set a novel in a mausoleum without making it feel morbid. I particularly admired how well emotions were conveyed throughout the book; writing about the loss of a child can so easily be overly sentimental, but I thought Saunders portrayal was really authentic and quite heartbreaking. Overall, I found it a thought-provoking novel that I felt I needed to re-read to absorb fully, yet struggled to put down while I was reading. I would definitely recommend it to others who are in the mood for a challenging yet engrossing book.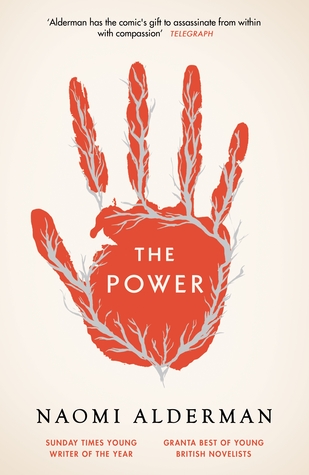 The Power has been everywhere this year, and why not? With an endorsement from Margaret Atwood and the Bailey's Prize, it is hard not to be persuaded to at least read this book. And for me, it did live up to the hype, even if I am not sure it will be a long-term favorite. The Power is a dystopian sci fi story where the women of the world, starting with the teenagers, suddenly find they have skeins of power (literally, as in electricity). The story then follows what happens, both in the lives of a few specific characters, and the wider world. It was a thought-provoking book, and I loved the detail of the illustrations, but the structure didn't quite work for me. I'm really glad I read it, though.
East West Street by Philippe Sands

Having really enjoyed reading a ton of non-fiction a few years ago, I recently realised how much I missed it. I think I read a review of East West Street on the NPR book blog and decided it would be a good one to try to get me back into the habit. It tells the stories of three people – the author's grandfather, Hersch Lauterpacht (who introduced the term crimes against humanity), and Raphael Lemkin (who originated the word genocide). All three were originally from the same city, now Lviv in Ukraine. The book starts off as 3 biographies, each of which are interesting on their own, but overall the book didn't pick up for me until the second half, where Sands discusses the impact of Lauterpacht and Lemkin's work on the Nuremberg trials. The story of Sands's grandfather was really interesting, but for me it didn't have a strong enough connection with Lauterpacht and Lemkin to fit in this book. Perhaps it would've worked better on its own as a short book. Nonetheless, I'm really glad I read this & would recommend it. It was a well-written book with a compelling narrative, and I learned a lot while reading it.
The Incredible Unlikeliness of Being by Alice Roberts
A friend loaned this to me shortly after I told her I was pregnant. It's not a pregnancy book, though; it's about evolution and how that is reflected in human development. It was fascinating! And it pretty much blew my mind, too. I mean, the development of the heart in a fetus? Wow. Just wow. It made me understand exactly why I was so shattered during the first trimester in particular. I've not read anything by Alice Roberts before, and haven't seen any of her documentaries, but she was a very persuasive writer. The bibliography was extensive, too, which is always important to me when evaluating the quality of a non-fiction book. I have to be honest & say I may not have enjoyed this quite as much if I weren't pregnant…but I still would have given it 4/5.
The Sunlight Pilgrims by Jenni Fagan
Set at the beginning of a modern ice age, The Sunlight Pilgrims takes place in the far north of Scotland and tells the story of Dylan, Estella, and Constance, who are living in a caravan park as an iceberg approaches the Scottish coast. It's a surprisingly gentle book focusing on human relationships in spite of huge, overarching things happening in the wider world. So basically, it's quite relevant to real life in that sense. It's both apocalyptic and personal, quite a hard balance to capture. I picked this up because I loved The Panopticon so much. I didn't like this novel quite as much, but still found it quite an interesting one.
Sidney Chambers and the Persistence of Love by James Runcie
Ah, Grantchester! I love this series. All the characters seem so flawed and human. Also, I'm a sucker for a clergy detective. I do watch Grantchester on TV, but I prefer the books. The last one was a bit disappointing, though, so I was unsure about picking this one up. I'm glad I did, as it was back to the feeling of Runcie's earlier books. The stories aren't overly complicated, and this was a perfect summer read, which I got through in about a day sitting in my garden. There are some very sad (and shocking) events in this particular volume of Grantchester, yet it was still a comforting read – just what it should be.